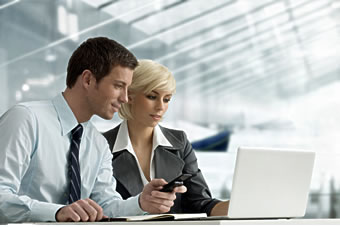 Cost Effective Solutions –
NO COST detailed Communication Systems Audit
We provide a NO COST detailed Communication Systems Audit to identify the various ways in which we can lower your overall monthly cost. We implement solutions that are effective, create efficiencies by working with our partners and most importantly save time. We review one full month of all voice/data/ communications billings. We determine your company's required functional capabilities and optimize your telecommunications network.
We review various aspects of your telecommunications network:
Domestic and International voice and data
Connectivity for LAN's and WAN's
Local services
Cloud Services
Internet connectivity
Audio and Video conferencing
Frame Relay
ISDN, DSL, VPN, SIP, VoIP
Domestic and International 800 traffic
Switched and Dedicated services
Point to Point circuits
Once the Audit is complete, we make recommendations to improve your overall cost while improving the technology and performance of your network. We take the time to meet in person to walk you through the findings and ensure all your questions are answered. If you choose to move forward, we handle all paperwork and project implementation at NO COST to you.  Your company becomes a direct carrier customer, billed directly by the carrier.
Communication Systems Management - Consulting
We are a NON-BIASED team of dedicated individuals that pride ourselves on excellent customer service. We consult and provide on-going back office support alleviating the monthly stress of bill management. We further assist with network/software updating and consistently look to save you time and money. Our managment team assists with implementation of our Communication Systems Audit and ongoing management. We provide an hourly, project, or monthly fee based resource as defined by our customer requirements.
Our services include:
RFP creation and management
Project management
Bill audits
Ordering and canceling services
Monthly bill analysis and approval
Bill reconciliation against contracts
Network Optimization
If your are looking to optimize your network and move "to the cloud", our seamless network solutions optimize overall performance and allow communication to be mobile. Our integrated communication systems (phone, email, file) are CLOUD-BASED, enabling your team to be completely MOBILE through various devices: on the road or in the office. Offices are becoming more and more virtual requiring products and services that cater to the growing demand of mobility, we work to find the right bundle of services that meets the needs of your employees.
Facility Change?
Whether your company is expanding, downsizing or relocating, managing the transition is a challenge to even the most efficient organization. Companies increasingly rely upon telecommunications in all operational areas, to gain a competitive edge. Your telecommunications systems, and your ability to provide continuous operations, are most vulnerable during a transition. Yet, with the rapidly expanding variety of products, services and suppliers, a smooth, trouble-free transition of your critical telecommunications facility is more complicated than ever. We assist in the selection and procurement of telecommunications products and services and act as your single point of contact for all telecom-related matters.
To find out more about our services please fill out the form or call us today at (408) 578-7200.
For more information fill out the form today: